In March 2010, Doe Run unveiled a breakthrough lead production process that's poised to transform the global lead industry.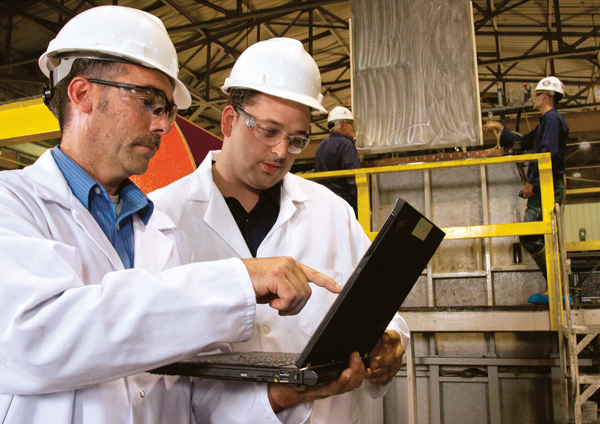 Following decades of careful research and approximately 265,000 personnel hours, the company is on the verge of replacing traditional, high-temperature lead smelting with a proprietary hydrometallurgical process. The results are unparalleled: greater than 98 percent metal recovery with minimal environmental impact.
"This is a game changer for our industry," said Bruce Neil, president and chief executive officer. "It delivers on our desire for cleaner communities, environmental stewardship and efficient production of products that power the world."
NEW LEAD PROCESS: Doe Run's new lead metal processing technology utilizes a leaching and electrowinning process that has never been applied to lead recovery. Steve Conway and Ryan Boyd, pictured at left, carefully review data on the leaching solution chemistry.
Data from Doe Run's demonstration plant in Southeast Missouri show that this new process will significantly reduce releases to air, land and water. Sulfur dioxide and lead air emissions will be nearly eliminated, which is impossible with conventional smelting technology. Further, the process does not produce slag, a byproduct of high-temperature lead smelting that makes up 98 percent of the annual Toxic Release Inventory (TRI) report for Herculaneum. (Current smelting operations produce more than 50,000 tons of slag each year.) The breakthrough technology also outperforms anticipated regulatory standards.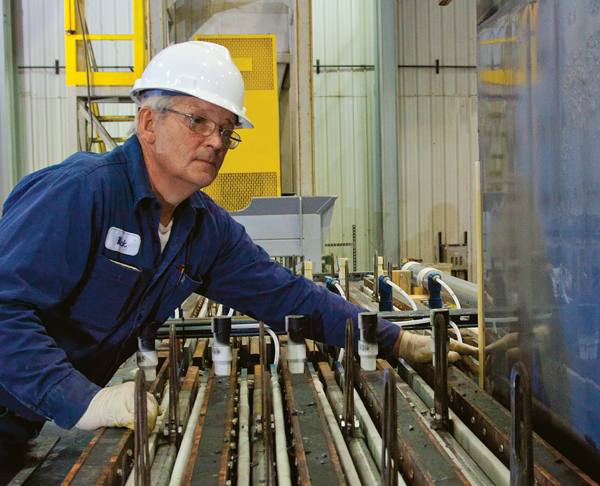 "We are convinced this technology has tremendous potential to produce a strategic metal in a manner that is environmentally sound," said Neil. "This fits into our life cycle approach to lead, and we are enthusiastically optimistic."
NEW LEAD PROCESS: Doe Run's proprietary hydrometallurgical process produces lead in 150-pound sheets. Here, Rick Martin harvests a lead sheet from an electrowinning cell. Each sheet is 99.99 percent pure lead.
Leading Change
Working with its research partner, Engitec Technologies, Doe Run's new technology replaces conventional, high-temperature lead smelting with a wet chemical process. The technology is covered by process patents in the U.S. and a number of other industrialized countries. Doe Run and Engitec jointly own the intellectual property. However, Doe Run currently has an exclusive license to commercialize the technology.
The process uses a technology known as leaching and electrowinning. Commonly used for other metals, such as copper and zinc, it has never before been applied to lead recovery.
The process encompasses three main steps:
Leaching: Lead contained in sulfide concentrates is selectively dissolved into fluoroboric acid, a very stable reagent.
Electrowinning: The lead-bearing solution enters an electrowinning process, which recovers pure lead onto stainless steel cathode sheets. After the electrowinning process, the solution is returned to the leaching process. As these processes are self-contained, the solution is recycled indefinitely.
Recovery of co-products: The solids that remain after leaching are further processed to recover zinc and copper.
Global refined lead demand is expected to grow in the following years to reach 15.2 million tons by 2020. The technology is needed now more than ever to satisfy demand and minimize environmental impact.
The benefits go beyond environmental performance. The technology provides efficient metal recovery, and by supporting Missouri's world-class mining district, the new technology can sustain the domestic lead industry and reduce dependence on foreign sources.
The company has invested more than $30 million in the project through 2010 and has been running a demonstration plant at its West Fork site since 2007.
In the meantime, Doe Run is in the midst of a detailed engineering and feasibility study that will provide information on plant size, location, production capacity and design options. During 2010, the research and development team identified ways to increase efficiencies and finetune the facility's footprint, moving the study's completion date to mid-2011.
FAST FACTS: Doe Run operates the last remaining primary lead smelter in the U.S. and has committed to cease the smelting of lead concentrates by the end of 2013. The proposed new technology facility would be the only source for primary lead metal in the U.S.
A Shared Promise
The new technology will help sustain Doe Run's business in a competitive marketplace, while positively improving the outlook for stakeholders and business partners. Doe Run took the opportunity in 2010 to publicly share the promise of the new process with industry peers, employees, community leaders and customers. Internal support will be essential to the techno­logy's success, and Doe Run is committed to working with employees to help plan for the future. Doe Run will cease operation of the sinter plant in Herculaneum in 2013. As the shift to the new technology begins, Doe Run will work with employees during the transition. "Many skills within our workforce will be transferable to the new technology," said Gary Hughes, general manager of the Primary Smelting Division. "In other areas, skill development will be required. Workforce development is always a priority at Doe Run, and we will continue to develop our employees so that they will be prepared to take advantage of new opportunities as they come along."
In October 2010, Jerry Pyatt, Doe Run's chief operating officer, presented the technical details of the new process at the Lead-Zinc 2010 Symposium in Vancouver, British Columbia. Jose Hansen, vice president of sales and marketing, presented on the topic the same week at the International Lead-Zinc Study Group in Lisbon, Portugal.
"Doe Run's technology would contribute to the longevity of the U.S. lead industry's significant ore reserves and ensure Missouri's continued role in serving a growing world market for lead," said Pyatt. "Given its tremendous potential, lead will continue to be a part of our lives. We've found a way to make the production just as sustainable as the uses."
In early 2010, Doe Run's sales and marketing team communicated the revolutionary concept during one-on-one meetings with customers, who are intently watching the progress. Several customers formalized their support in 2010 through letters shared with legislators and potential financial partners.
With a vision in mind, Doe Run has a gated plan to bring a full-scale plant to life. Financing has not yet been finalized. Meanwhile, experienced teams of chemists, metallurgists, engineers and geologists are fully engaged to help overcome any obstacles. Doe Run is investing in human capital to maintain the momentum. Two senior-level employees were added in 2010 with the focus of working on the new technology.
Doe Run's next hurdle is to present detailed feasibility plans with all cost and revenue projections to the company's executive team and board of directors. An affirmative decision by management could bring the technology to commercialization by 2013, while providing a seamless transition that will meet all stakeholders' needs: jobs for employees, a solid supply for customers, proven expertise for the metals industry and superior environmental performance for the greater community.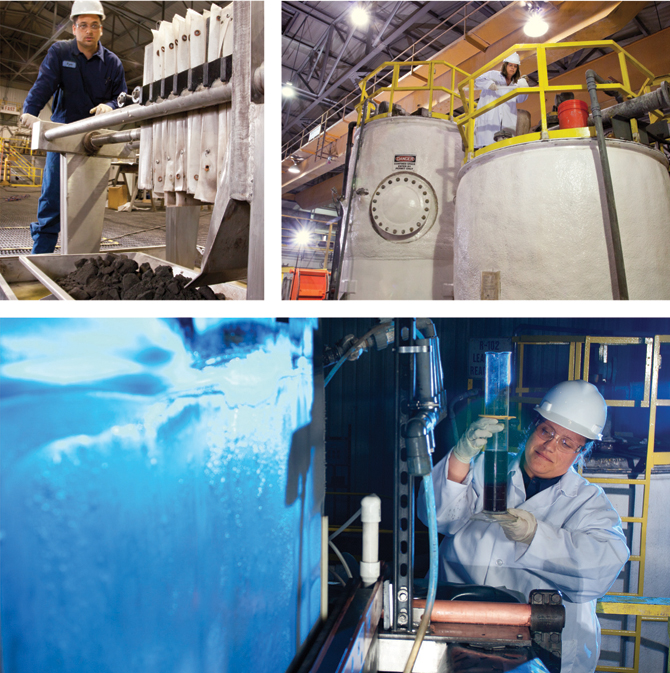 Above left: Ryan Boyd filters the co-products from the leaching process.
Above right: The new process uses fluoroboric acid in special reactor tanks to separate the lead in solution. Anna Stacy collects samples from a reactor tank to ensure proper chemistry.
Below: Toni Henegar measures flow rate and quality of the lead-ion solution in the electrowinning cell. Through the electrowinning process, pure lead is recovered onto stainless steel cathode sheets.
The Future of Lead Production
Doe Run and Engitec Technologies have devised a new way to extract lead from ore without the use of extreme heat.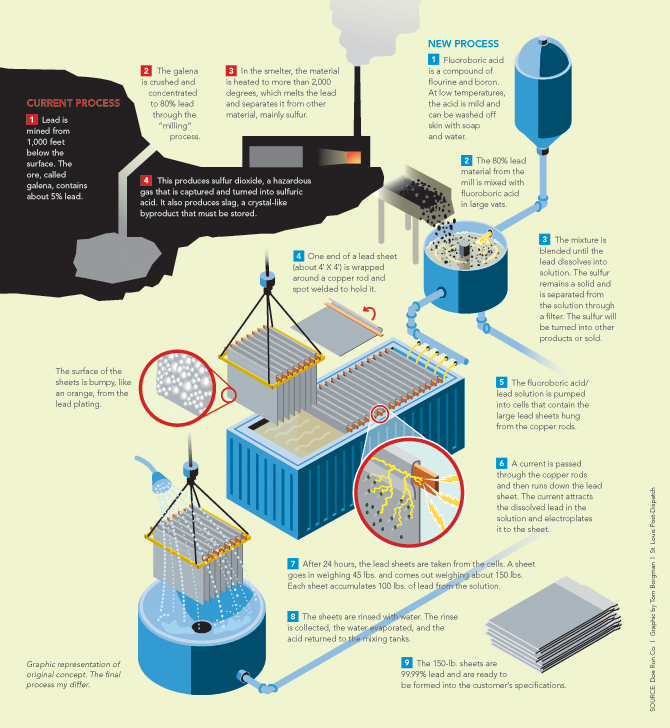 The Benefits of Doe Run's new technology
Reduced environmental impact: The new technology will virtually eliminate lead and sulfur dioxide emissions and eliminate slag.
Safer, high-tech jobs: This technology will enable Doe Run to provide higher-skilled jobs that are higher than average in pay and are in a safer work environment than that of heat-based smelting.
Strong economic contributions: When multipliers are included, the company's annual economic impact in Missouri is almost $1 billion. The technology can help protect these contributions.
Longer mine life: The technology will extend the economic life of Missouri's lead mines.
Sustained industry future: Doe Run expects this promising technology to set a new industry standard for sustainable lead production.
Stronger U.S. industry: This new technology will help the lead industry continue to flourish in America and continue to supply U.S. battery manufacturers with the lead they need.
Top of the page